Packed with Powerful Features
Take a look at the amazing features that WordPress Stripe Donation offers.
Dynamically Donation Amount Settings
Customizable Receipt Email
Receipt Email - HTML Template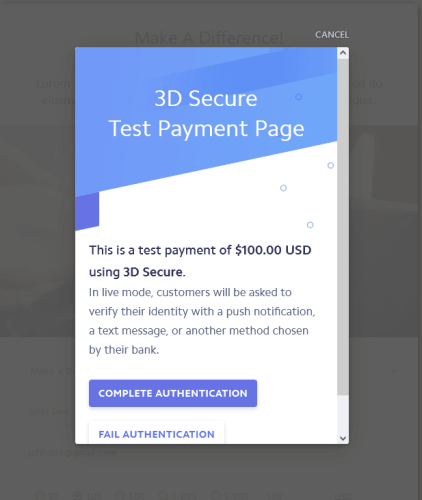 SCA supports for European customers
Strong Customer Authentication (SCA), a rule in effect as of September 14, 2019, as part of PSD2 regulation in Europe, requires changes to how your European customers authenticate online payments.
Card payments require a different user experience, namely 3D Secure, in order to meet SCA requirements. Transactions that don't follow the new authentication guidelines may be declined by your customers' banks.
Customizable Thank You Page
A good business practice is say thank you to your new and returning customers. A good thank you quote or message will help build that strong customer loyalty that keeps your business afloat.
Stripe Donation Plugin provides a built in 'Thank You' page which can be customize with Elementor.
A full featured form contains lots of options including:
* Form Title
* Form Banner
* Form Description
* Multiple Donation Amounts
* Multiple Donation Options
* Donor Name
* Donor Email
* Donor Address
* Comments
* Card Number
* Captcha &
* Display Total Donation Today
You can set the form with minimal options to receive donation or payments if you do not wish to bother your donors. Minimal form options are:
* Donation Amount
* Full Name &
* Email